About The Artists
2019 marks Jazz at St. James' 25th year celebrating the finest local Austin and national jazz performers. Over our history, we've showcased musicians who have made their creative impression on the music we love. 
This year's lineup is no different and we're excited to have such great artists grace our humble stage and share the passion of jazz.
Tom Scott
Tom Scott is a renowned composer, arranger, producer, music director, saxophonist and educator.  His 33 solo recordings have earned him 13 Grammy nominations and 3 Grammy awards.  In 2013 he produced a CD for young ukulele master Brittni Paiva which won a Hawaiian Grammy for 'Ukulele Album of the Year', and in 2017 received his first Emmy Award nomination for Musical Direction of the Tony Bennett 90th Birthday TV Special on NBC.
Tom's accomplishments and acclamations are too numerous to list here. Please visit Tom's site to read more.
Carmen Bradford
2019 Grammy Nominee, Carmen Bradford, was born in Austin, Texas and raised in Altadena,
California. Carmen Bradford grew up with music in her home and in her heart. It was only natural that
Carmen would follow in the footsteps of her great family legacy being the daughter of legendary
coronetist/composer Bobby Bradford and world-renown jazz vocalist/composer/author Melba Joyce.
Her grandfather Melvin Moore sang with Lucky Millender and his Big Band; Dizzy Gillespie's Big Band in
the 1940's; and sang with the Ink Spots, making Carmen the third generation of incredible musicians.
She has carved out a place in music history for herself and is playing an integral role in this uniquely
American art form called Jazz. Carmen Bradford is jazz royalty.
(Source: carmenbradford.com/bio)
John Mills
Dr. John Mills is a saxophonist and composer/arranger based in Austin, Texas, where he pursues a wide range of concert and recording projects within the jazz idiom and beyond. He has enjoyed the opportunity to perform with such internationally prominent jazz artists as Steve Swallow, Carla Bley, Butch Miles, Kenny Wheeler and Maria Schneider during his career. John currently leads the high-energy, ten-piece fusion ensemble Times Ten, which features his compositions and whose acclaimed first CD, Caffeine Dreams, is available on Fable Records.
Outside of the jazz realm he has worked on stage or in the recording studio with such R&B icons as Bonnie Raitt, Dr. John and Aretha Franklin, alternative pop artists David Byrne and Jonny Greenwood (Radiohead), and country stars including Ray Benson and Asleep at the Wheel, Lyle Lovett, and Willie Nelson. His orchestral arrangements for major artists such as these have been performed by symphonies across the U.S. and abroad.
Among his educational activities, Dr. Mills has presented jazz master classes at the Royal Danish Academy in Aarhus, the Rimsky-Korsakov Conservatory in St. Petersburg, the University of Greifswald (Germany) and the University of Ljubljana in Slovenia. He is an Associate Professor of Jazz Studies in the Butler School of Music, where he teaches jazz saxophone, composition, arranging and history.
(source: music.utexas.edu/about/people/mills-john)
Dr. James Polk
Pianist Dr. James Polk's musical knowledge and worldwide experience spans over more than 50 years. His style, deeply-rooted in the blues, is an example of richness and experience. Polk came up along with a group of incredible Texan musicians; jazz and blues artists like David "Fathead" Newman, Russell Jacquet, Arnett Cobb, Don Wilkerson, and Ornette Coleman, and his sound has that unique Texas flavor. An accomplished musician who has played almost every instrument, Polk was born on September 10, 1940 in Yoakum, and grew up in Corpus Christi, where he initiated his extensive resume.
In 1959, Polk moved to Austin, where he eventually formed his own band, James Polk & the Brothers, which became one of the first integrated bands in a still largely segregated town. Featuring some of the finest musicians around Austin (Martin Banks, W.C. Clark, Matthew Robinson and Angela Strehli), James Polk & the Brothers also became a "Blakey's Messengers" type music academy for playing blues, funk, and jazz.
Once invited by Lionel Hampton to tour Europe, Polk is best-known for his work with Ray Charles. From 1978 to 1985, he toured and worked as an organist, pianist, writer, arranger and conductor. He was featured on several of Charles' records, including Ain't It So (Concord, 1979), Brother Ray Is At It Again (Crossover/Atlantic, 1980), Wish You Were Here Tonight (Concord, 1983), and The Spirit of Christmas (Concord, 1985), and was nominated for two Grammy Awards.
(source: www.eastendculturaldistrict.org/cms/culture-art-music/people/james-polk)
The Rev. Bill Miller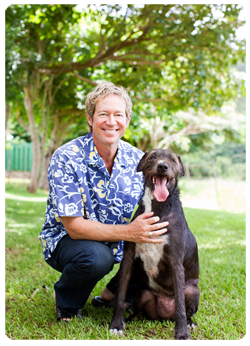 Father William "Bill" Miller is an Episcopal priest, author, and storyteller. He is the author of two popular books, The Gospel According to Sam: Animal Stories for the Soul and The Beer Drinker's Guide to God: The Whole and Holy Truth about Lager, Loving and Living. His dog Sam Houston was the Mayor of Baylor Street in Austin and frequently accompanied him to church at St. James. Father Bill now lives near New Orleans with his four rescue dogs Sinbad, Mahalia Jackson Queen Liliuokalani, Mano (Shark) "Professor Shorthair" Miller, and Waylon Wailua "Jelly Roll" Jennings.  Before becoming Rector of historic Christ Church Covington, LA, he lived on the beautiful Hawaiian island of Kauai for ten years. Among his favorite years in ministry were the 8 years he spent as Vicar, then Rector, of St. James Austin, where he helped start Jazz at St. James. He loves animals, travel, and music and has collaborated with musicians to found 4 music festivals (in Texas, Hawaii and Louisiana) and create thirty uniquely-themed Music Masses. With his former dog, Nawiliwili Nelson, he started the non-profit Howlelujah Foundation to help animals around the world. You can connect with him at fatherbill.net or facebook.com/williammillerauthor. It makes his heart sing to be back in Austin at St. James!